At this point, our main goal was heading east to reach the Alps where we'd find some cooler weather and be able to ride a few more passes out of the "Motorcycle Journeys through the Alps" book. As we went, the landscape turned from plains to pine forests, again dotted by little towns though these seemed somewhat more alive.
There seemed to be an active forestry industry in the area though most of what we saw seemed to be being done very responsibly and sustainably. There were areas that had been cleared but miles of mature forests and areas that looked as if they had been planted for the purpose.
Ann getting creative with the camera from the back of the bike. In fact, she took 99% of the pictures on the blog from a moving bike.
Coming down out of the mountains, we entered Tournon-Sur-Rhone, just north of Valence and stopped for lunch and a walk around. There was a huge stone fortress right on the banks of the river.
Below, the bike is in lockdown mode. Nothing that can easily wander off. It's a dead ringer for our bike at home and we keep forgetting it's not ours.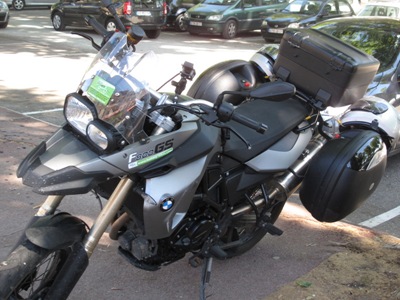 Lunch along the river. We haven't typically been sitting down for big lunches, but today we sat down at some tables we thought were in front of a patisserie/ sandwicherie that turned out to belong to a restaurant. We'd seen signs for fresh salmon along the road, and I had to break from the usual heaping, ham-filled salad to try the salmon ravioli. Could have had to do with the inch of melted butter in the bottom of the dish but it was great.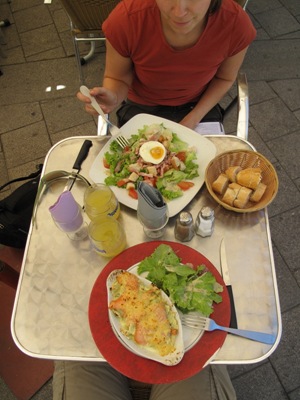 We walked across the bridge over the massive Rhone. In 2006, I rented a motorcycle in Germany and rode down through high passes in Austria and Switzerland, including the Furka Pass, site of the Rhone Glacier, the origin of the river. See the blog post. From the Glacier, the Rhone runs over 800km from the Alps to the Camargue where it empties into the Med.
We seem to like occupying tables at cafes during the no-man's-land time periods. Between 7 and 10am, the tables are bustling with locals sipping on espressos or enjoying petit dejuener but at the stroke of 10, everyone disappears. They reemerge from noon to 1:45 for more cafe and a bite only to recede again. If you don't happen to be functioning on the French internal clock, you can go from waving away the smoke from your table neighbor's third cigarette to wondering if the waiter has actually gone home in about 5 minutes.
Looking for a hotel in Tournon-Sur-Rhone, we encountered our first real attitude about speaking English. Typically, we pull up in front of a hotel and Ann hops off to go inside and ask about availability and price. She usually even spends a little more time than I would making sure she looks like a respectable patron rather than the sweaty, grungy biker chick she is.
We've tried different approaches, using our few French words to describe our desired room ("chambre pour duex avec douche"), leading with (in French) "sorry, I don't speak French" and then the above, or just coming out with "Parle vous Anglais?" Usually the reception person responds either in some stuttered English or just blurts out a buncha French that we've gotten pretty good at guessing the meaning of. No, we don't need dinner in the restaurant tonight. Yes, we understand that we need to enter a code to get in the door after 10, etc.
But in Tournon-Sur-Rhone, Ann went for the full court press, greeting in French, asking for the room in French, apologizing for not speaking French, and asking (yes, in French) whether they spoke English. The response? "No." No follow-up indicating that a room was still available and they'd be happy to take our money. It was like "I don't speak English and don't want your business." Ann was a little put off and turned to leave when the woman, in English said, "Where are you from?" Ann said "America," and her demeanor changed immediately. "America? We have a room for you" and continued in broken but passable English to complete the check-in. Hotel Azalees/60 euros a night.
We still don't quite know why she'd frozen us out initially. If we can detect an accent from a French speaker while they're trying to speak English, it makes good sense that they would be able to detect  an accent from us. Just like it can take a couple sentences for us to peg the origin, the same goes for them. Who knows what accent Ann speaks French with but it ain't American. Then again, this is the same interaction in which Ann thought it was weird that every time she explained that her fiancé was waiting outside on the motorcycle, they mysteriously understood what that word meant.
Ann felt the sign on the door in our hotel room summed up her wishes for me in the bedroom. "Gaine technique." I could have turned it around on her later when I realized that the English translation is "service shaft." Whoa! Definitely not a family blog today.
That night, we wandered around town looking for some food before the World Cup game. Uninspired by the usual pizza and salad options, we were at a loss until we emerged through a narrow arch into a plaza shoehorned between the tall stone buildings. There in the square, we saw a couple sitting at a table in front of a restaurant both eating the most delicious-looking plates of sliced steak, french fries, and a green side that looked like guacamole. We grabbed a table and scoured the menu to find the dish. There it is, "tartare de boeuf." It's weird that ahi tartare is raw tuna but what we're ordering is a slightly rare cut of meat. Oh well, silly Frenchies. 
When two heaping plates of raw, seasoned ground beef came out, we tried our best to hide the horrified look we shared. We each ate as much as we could but the hardest thing to swallow was the blow to our menu ordering confidence.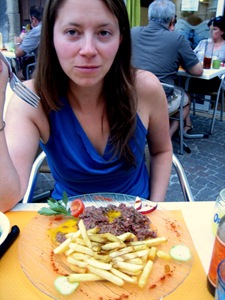 But it was probably nothing compared to the confidence dressing down this guy would receive after hanging out for one night in the US with his "European carry-all."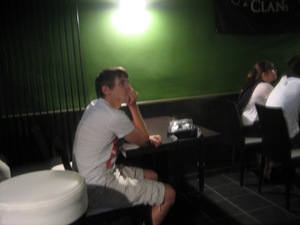 Out of Tournon-Sur-Rhone, we passed signs for upcoming Tour de France closures as we headed towards the Parc Naturel Regional du Vercors. The 100km long, 2500 meter tall Vercours Massif was the only thing between us and the Alps and had a couple of the two star roads in the motorcycle touring book.
| | |
| --- | --- |
| The mountains looming in the distance | You must be this short to ride the Vercors. |
The road hanging on the cliff (and sometimes in it) in the Grand Goulets.
A high plateau leading up to the Col du Rousett where we passes a cool old jeep and went through the tunnel at the top…
…which makes the first view of the hairpins leading back down all the more dramatic.
As great as the riding and scenery was, the temperature went up about 2 degrees Celsius with every switchback and we slunk under a bridge to cool off.
Our first views of the Alps beyond Gap.
We ended the day in Gap where we got a ton of information from the helpful tourist office about the details of the Tour de France passing through town on Bastille Day. Gap would be the closest the Tour would come to us while we were staying in the Moulin. We also stopped into a restaurant and each bravely (we don't really like to use the word "hero") ordered a different "XXX de boeuf" meal. The "steak hache" came out as a grilled burger patty but it was the "entrecotes" that won the prize of being what we meant to order on the tartare night.
Hotel  La Cloche had a great location right on a busy square with a reasonable 46 euro a night rate. Unfortunately, the room was on the 3rd floor, no elevator, no AC and construction across the street started about 7 am. It worked out but maybe not one we'd recommend other than the very nice proprietors.
We walked around town for a while where it was clear they were excited about the Tour passing through.
Ann felt like a local…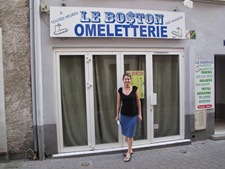 We've been in about three retail stores since we've been in France, yet on this night, a T-shirt shop looked like an interesting place to soak in a little air conditioning. We flipped through the rack of high fashion printed T's, most with random combinations of cool words like "tire shop" and "wheel works" and logos ripped off from Goodyear and STP, until one in particular caught our eye. It was a print that looked like a poster for any show, but what was strange was the address it used.
"Hey, 853 Valencia! That's the address for Amnesia." Amnesia in San Francisco's Mission District is the bar where my band, Homespun Rowdy, has played a regular bluegrass series at least once a month for the past 9 years. Then Ann noticed, "And look, it's a 415 phone number."
We talked to the owner of the store who said the designer was from Holland and his shirts we really popular. Only thing we can think is that he visited San Francisco sometime and someone took him out to Amnesia where a poster caught his eye. No word back from Amnesia owner, Shawn, as to whether he recognizes the rest of the poster.