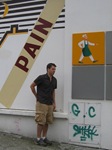 There's just too much to ride in the Pyrenees and we only had one day to do it. Add to that the fact that we were a little saddle-sore from the long haul yesterday, and we had to be picky. The 399km loop from France into Spain and back through Andorra (which was only ever doable in my dreams) gave way to ticking off two of the more well known passes used by the Tour de France and known by motorcyclists around the world, the Col du Tourmalet and the Col du Aspin.
On this day, the Fourth of July actually, the only parade we saw consisted of a bike race (and the traffic behind the packs of riders) grinding up the hill. The racers in this event (no, not the Tour which was still way north outside of Rotterdam) were spread out over the entire length of the Col du Tourmalet requiring that we make use of our narrow profile to slip past the diesel belching trucks (and cars) at every opportunity.
BTW, what's the state of air pollution in Europe? Maybe we're more sensitive on the bike but it seems like every tailpipe from Toyota to BMW to Renault is spewing black smoke! I know some are "clean diesel" it sure still smells like a burning dinosaur and we didn't envy these guys huffing and puffing up the hill behind them.
The road, of course, was spectacular. Tight hairpins hanging over the edges with jagged, mist-shrouded peaks looming above us and wide valley vistas opening up behind.
Legs were shaking and breath was short as the summit of the Col du Tourmalet drew near. But think about how the bikers must have felt!
We stopped to take a few pictures on the far side of the Col and then looked uphill to wait for our opening in the now downhill bound cyclists. These guys were FLYING. We got behind one and tried (in vain) to keep up…
The Col du Aspin was much less dramatic but very pretty. And still very impressive to have ridden to the top.
Some locals…
We came back down the Col du Aspin for some lunch and watched people learning to paraglide on the obstacle-free but windswept hill adjacent to our cafe.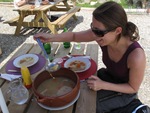 Ann ordered a small soup.
I was happy with just my plain old water to entertain myself. Nothing exciting to see here. Nope.
Then we headed back up the Tourmalet, reading all the signs of encouragement written on the road, and coasted down the other side against a dwindling flow of riders who needed those words more than ever. By now, anyone still at it was walking their bikes or sitting by the side of the road waiting to be picked up.
Backwards helmet cam down the Col du Tourmalet. Otherwise known as "What does she do back there?"
Back in Cauterets, we were getting a little tired of staring at each other over a small, metal cafe table as we had for pretty much every meal for the past week so we got a pizza from a little shop that bakes it while you wait. It wasn't until we got it back to the room that we realized that they don't cut it for you. No problem, about 49 scrapes with then end of some nail clippers (new, unused!) and it tore apart pretty good. Add some toilet paper napkins and you got yourself a meal.
Misc sites of Cauteret…
| | |
| --- | --- |
| You cop some, you gnac some! | Nissan Patrol w/ roof top tent |