Leaving Cauterets and the Pyrenees, we got out the Lonely Planet and started looking for someplace interesting a few hours to the north that would get us moving back towards the mountains.
Of course, we talked about stopping in Condom but decided to pull out at the last minute. I had been taking care of the rhythm of the trip so far and everything had been working out fine, but I felt like it was Ann's responsibility to choose what we'd do next. In the end, we both agreed it was better to put the rubber down towards the Montabaun. Once we got going, we couldn't stop and just didn't feel good about Condom. Besides, this time of the month, that area's not very busy and using Condom as a stop only turned out to be about 98% effective in getting us as far north as we needed to be. (Phew, that was fun. Thanks, everybody.)
We ended up stopping in Auch ("Osh") and walking around the old city. Believe it or not, we've yet to set foot in a church or cathedral on this trip and we weren't about to break our streak but the old stone buildings did cut an impressive profile on the hill above the Ger River.
According to the Lonely Planet, one of the things to see in Auch is a statue of Dartagnan from The Three Musketeers. After some Googling, I found what seems to be a pretty confident response as to why they were called the "musketeers" when they used swords instead of muskets. I also found some very interesting facts about nougat. Unfortunately, while we were there, the grand staircase guarded by the statue was under construction. Even more unfortunately, Ann got a hold of the camera while I wasn't looking and snapped some photos of her idea of a chiseled masterpiece.
Even the guy at the cafe had to go down the street to the patisserie when we ordered "sandwiches" (baguette with ham, cheese, butter and butter).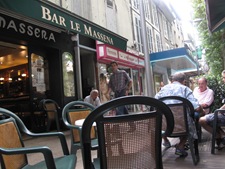 From Auch, we continued to route North towards Montabaun, the first town on a more northerly route back across France that had been recommended by some locals on ADV. As usual, Mon. Garmin routed us in the most bizarre way possible. I have little doubt that it was true to the "shortest route" (rather than fastest time) setting I had programmed, but without fail, if we saw a sign towards our destination, Mon. Garmin would insist we turn the opposite direction and lead us onto a farm road even smaller than the one we'd been on. Lucky for us, these were great roads to ride on that wound through endless fields of sunflowers. Seriously, I mean, what could they possibly use all these sunflowers for? The fields went on and on and on over every hillside for hours.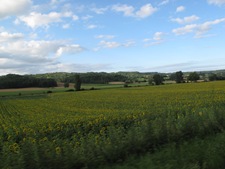 Moissac caught our eye in the L.P. book and as we rolled over the Tarn River, we were convinced. Pretty riverside location and a view of one of the canals built to facilitate trade between the Atlantic and Mediterranean. At this point, they are used by leisurely private and rental barges (houseboats) that tie off alongside a town to explore or resupply. The canal routes also provide a very gradual bike route across the southern part of the country.
The Moulin de Moissac and the view from the room. A splurge at 90 euros but well worth it.
Then again, the guy at the front counter looked at us as if we were insane when after plunking down the entry fee, we asked about a self-service laundry in town. He gave us an "I can assure you I don't know anything about that" kinda look thought the Office du Tourisme in town was glad to point us to one where we could wait for our load to finish in an air conditioned bar while using the wireless and watching Tour de France updates. As much as we tend to think of "tourist" as a bad word, we're seeing these offices everywhere and realizing they're a great source for hotels, maps and 20 minutes of air conditioning.
The abbey in Moissac has markings dating parts of it back to 650 AD. To show our respect, we sat at a cafe right outside and drank beer brewed in a local abbey (or at least one that that took the name of a local abbey). 
Well buzzed (but coming from a certain sanctimonious high ground), we returned to the luxurious room we'd chilled to perfection with the "climatization" and proceeded to Skype everyone we know. Possibly not what the monks had in mind…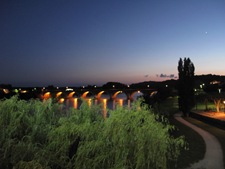 The next morning, we got our standard 7 am start.
Once again, we let Mon. Garmin once again defy French road signs and lead us on a quest for the most remote backroads flanked by the most ridiculously large sunflower farms possible with completely abandoned French towns in between. It was pretty awesome.
Well, it was awesome until we realized that none of the hotels in these little country towns with all the shutters closed and no one on the streets were open. We later talked to a couple from Florida who have stored two BMW F650GS's in Germany for the past 6 years, coming to ride the Alps and French countryside for 3 months every year, that the major autoroutes have eliminated the need for people to pass through these little towns and thus brought about their decline. If only Mon. Garmin was the Minister of Transportation!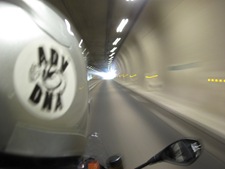 We pressed on, entering the southern portion of the Parc Naturel Régional des Volcans d'Auvergne which it's believed used to be the one of the most active volcanic regions in Europe, the results of which we saw in the Monts du Cantal, the remnants of a large volcano collapsing inwards on itself.
They love the high view points. If there's a promontory of any kind, it's got a church or a castle on it.
The first town we saw with any signs of life, particularly in the form of a hotel (with a pool with a topless sunbather no less!), was Massaic, likely spared from obsolescence by its proximity to the A75. Never mind that we had come from Moissac, we were too tired to ask questions. A dip in the pool (wearing my mirror sunglasses), a quick walk around town, a pizza and a world cup game and we were done. Grand Hotel de la Poste was nothing special but had a nice pool and bar area. 50 euros a night plus 7 for breakfast.
Typical French village but…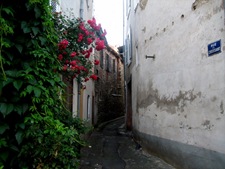 Rue de Croissant? Really? Are you guys just phoning it in at this point?
Street hasn't changed much in 50 years.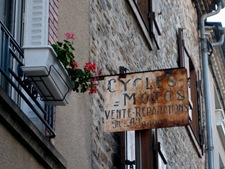 Moto shop was closed… or there may not have even really been one.
Dogger's got a nice system for hiding in plain sight to watch the passers-by.
Tomorrow, we keep making progress towards the Alps…