In Gap, we had to take a serious look at our route for our last two days before we would meet my family in Vence, 20 minutes into the hills from Nice. Some late night in the past few months, I had downloaded GPS tracks for the Route des Grandes Alpes and entered routes for several two star passes from the "Motorcycle Journeys Through the Alps" into the Garmin Zumo and the realties of the time involved in hitting them all were becoming clear.
The solution seemed to be a short detour north to bag the Col d'Izoard then backtracking south to line up for La Bonnette the next day. Another early morning start and we were heading towards the mountains looming in the mist above Lac de Serre-Ponçon.
The road climbs up from the lake opening up views of the jagged, snowcapped mountains we hadn't realized had been behind us the whole time we were in Gap.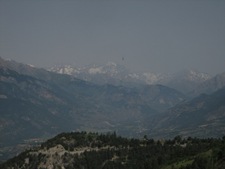 Then takes a turn up a gorge clinging to the cliffs and disappearing into tunnels beside a silica blue glacial torrent.
After a ski town nestled in a perfect alpine valley, it begins its real climb up to the Col d'Izoard. Reminded us a lot of riding up Cinnamon Pass in Colorado but on an even larger scale. Oh yeah, and paved.
Around one turn, the landscape turned completely lunar. This area must be stripped each winter by avalanches and mini glaciers sliding down the face.
The top has amazing views to the north and south.
The ride up on video. Sorry about the splattered bug on the left side of the cam…
We can't decide which of these to take next time we do the pass. On the right is a Mercedes van with a Westfalia pop-top.
Altitude does some strange things to Ann. We were all a little oxygen deprived when she did her first space walk on the top of Cinnamon Pass (look halfway down the post) on the Colorado trip and were laughing hysterically. This one's dedicated to Dave W (rubberneck).
Video on the way down with some different camera angles.
In this typical little town square, we pulled the bike up under a tree, sat down at restaurant and in our best French asked for "la carte pour mange?" The waiter looked at us quizically and said, "Now? No." and walked away laughing. Oh yeah, it was 10 am. Cafe no-man's-land…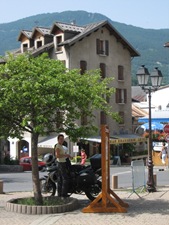 Approaching the top of the Col du Vars, the battery on the camera went dead but the video shows one of the more perfect alpine valleys I've ever seen.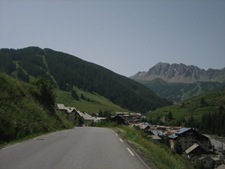 We found a hotel in Jausiers (which we incorrectly pronounce "j-yow-zers") that catered to the motorcyclists and bicyclists for whom this area is a paradise . After tucking the bike into the dedicated garage, we packed a backpack and headed to the Plan du Eau, a good size man-made swimming lake we'd passed on the way in, to cool off.  Free for residents, 2 1/2 Euros for visitors.
For dinner, we wandered into town and were happy to find that the only restaurant on the 50 yard pedestrian main street had an outdoor terrace in back. We had a nice, young waitress who was excited to practice talking to us, though she admitted that she often doesn't pay attention in her English class in school. We ordered a couple half liter Leffe Blondes and took a look at the menu. Ann went for the tried and true, boeuf and pomme frites, but I felt like a sausage and ordered the andouille. No, I didn't. I ordered the andouillete.
"You know what this is?" she confirmed.
"Yes, it's sausage, right?"
"Well, yes, but it's a little different how it's made. It's got…"

Yeah, I remembered seeing something in the Lonely Planet about andouillette (just a small andouille, right?)  being made with some "unlikely" ingredients, but come on, we're all grown ups. We know how to put the origins of sausage casings and the small percentage of rat hairs, bugs and the like in our peanut butter and hot dogs to the backs of our minds.
"I know, intestines and stuff."
"Yes, it's a little different but very good. A specialty. Many people love it." she reassured.
"Yeah, I'll try it."
The smell hit me before she reached over me to put the plate down. Like rotting mushrooms in chicken manure wrapped in one of my middle school gym socks. And I want to say it almost looked worse. There was no other way to see the brown, wrinkled cylinder, puckered at each end. The image could not be avoided. It was a rectum. And after the first tentative bite, there was no other conclusion.
I stifled the gag reflex as I tried to chew the rubbery tentacles of intestine, each jaw compression releasing a waft of stench clearly reminiscent of the bodily function they had performed. There was no denying it. It tasted like shit. A swig of Leffe was quickly followed by a manic left, right, left. right, left grab of 5 pomme frites as Ann looked on from across the table.
"How was it?" she asked.
The truth was not an option as it was essential that I convince her to try some. How could I ever explain to her the taste I'd experienced? "It was… you know, like she said… different. Interesting."
"Was it sweet?" she offered.
"Uh, no… definitely not sweet." At this point, I'm suppressing both the desire to vomit from the odor 10 inches below my nose and the smile that would betray my plan.
"Spicy?" she tried.
"No, I wouldn't use the word spicy. You just kinda have to try it."
It wasn't my proudest moment, and I took no pleasure in the look of horror that came over her face as she released the bite from her fork and into her mouth. Her countenance then progressed through at least five or six of the 7 stages of grief. The ones I caught for sure were shock, denial, anger, bargaining, and depression, but I can assure you acceptance and hope were not present. Being the more pragmatic of our couple, she expelled what she could into her napkin and calmly stated, "I'm not ready to talk about what that tasted like."
After a silent walk home, we got back to the hotel room and Ann went into the tiny bathroom. 30 seconds later, the door opened and she emerged, turned to me, paused and simply said, "Shit. It tasted like shit."