As I mentioned in the last post, after 10 days of nearly constant movement, Ann and I were ready to lay low for a while, and the Moulin was a great place to do it. By the time the rest of the family had arrived, one group after 4 days in Paris and another recovering from a delayed flight that left them stranded in London for a night, we felt pretty settled into the Moulin and French life in general.
Our room had a bit of a "humidity issue" that we had to manage. Ok, it was just dank…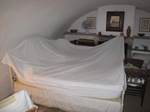 We heard stories of sweltering heat and crowded cafes in Paris and decided that our string of small towns and the naturally air conditioned mountains had been a good choice. Of course, we missed the museums and attractions, but had anyone else been engulfed by a herd of 200 sheep? Others took a few days to recover from the jet lag and culture shock and made us glad we'd already undergone some cultural adjustment. We did what we could to help the newcomers assimilate including teaching them essential French phrases like "un biere a pression… grande."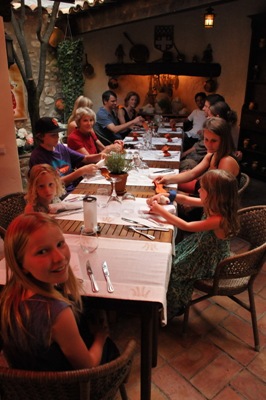 The first family outing was to a nicer local restaurant. The other patrons, mostly couples sitting at romantic tables with white linens and candlelight, couldn't help but stare as the thirteen of us filed in, but in general, seemed amiably amused by us all. With overblown French indignance, the proprietor refused to bring out plain cheese ravioli without the four cheese sauce listed on the menu for the kids, quipping in French that it "would be shame" to serve it that way. Meghan channeled her local roots and fired back that it would be a shame if it had the sauce and they didn't eat it. An agreement was finally reached with the concession that sauce would be on the side.
After a few days off the bike, Ann stopped unconsciously leaning left, then right, as she walked between the house and pool, a motion that had been ingrained after 10 days of hairpin turns. That meant it was time to get back on the road. With my brother, an avid cyclist, sister-in-law and their two kids, we set off in one of the mini-vans for the closest town where were could intersect with the Tour de France. After looking at the map, the 2 1/2 hour drive North to Gap was extended to over four so we could take them back over La Bonnette, the high altitude pass we'd used to approach Nice on the bike. They were suitably impressed by the meadows and peaks of the Parc National de Mercantour that it made the 7 hours of driving just to see 15 minutes of riders blurring by as they raced for the finish line worth it. Just barely…
Back at the Moulin, we painfully waited a few extra days while our niece returned from visiting some relatives near Toulouse to watch the most recent episode of the Bachelorette. Streaming off ABC.com was choppy, possibly due to the routing through my office VPN so we appeared to be watching from within the US and possibly due to the six Skype conversations that seemed to be going on at any given time. We eventually resorted to paying $1.99 to download episodes through iTunes. 
Before we'd left the US, I'd also downloaded a few episodes of "V," a recent remake of a series I remember watching as a kid, through an Amazon service called UnBox. We quickly became hooked on the cheesy implausibility of the show and soon couldn't go to sleep without a 43 minute dose.
After much discussion, we finally all agreed on one full family outing to the town of Grasse, home of the Fragonard Perfume Factory tour.
It was obvious that my mom was pushing for more adventures with the whole family, but just by virtue of being 13 people ranging from 3 to 70, our options were already somewhat limited. Add to the fact that we're all outgoing people, capable of planning and leading our own adventures. Put us all together and you're either going to end up with people butting heads for control or some of us taking such a subordinate role that our preferences and personality would be overshadowed. Sometimes she doesn't seem to understand that we all actually like each other and want to hang out with each other, but a huge group with lots of people to take care of is not the place to do it. The moments I'll remember much more fondly with my brothers, nieces and nephew, etc from this trip will be times when a few of us were hanging out, heading into town (or across the Alps!) on a mission, and could find things in common with each other rather than everyone pretending to be interested in something no one really is. Mom's argument was that she didn't like having to choose which family group to spend time with and liked it when everyone was together. We all loved our family dinners together at the Moulin and lazy time around the pool and countered that we'd rather show her each of our individual personalities and styles at our best while seeing her in a smaller group. Maybe I'll feel differently when I'm a parent…
Ann and I took one solo afternoon field trip to the nearby town of St. Paul du Vence, a medieval, walled village with narrow, pedestrian-only cobblestone streets reported to have good shopping. Unfortunately, the town felt more like a Las Vegas reproduction of itself. I kept looking up at the sky to look for the telltale fire sprinklers and video surveillance that give away the interiors of the Paris or New York, New York casinos on The Strip. The amount of power for air conditioners, lighting for the endless glass cases displaying quirky art that looked like it could be ordered out of SkyMall, and of course credit card machines pretty much spoiled any impression that you were walking through an authentic old city center.
Back at the Moulin, we'd alternate between the pool and the cooling stone walls of the living room where we could watch the Tour de France on Mike's iPad or read. There was also quite a competitive badminton tournament organized by 14 year old Austin. The evenings saw more dinners on the classically Provencal stone table on the veranda or walks into town followed by cutthroat Scrabble games. No, French words were not allowed.
We also had lots of time to compare the iPad to my netbook as an option for the big trip. While the iPad is great for 99% of browsing, it still has the same limitations as the iPhone with viewing Flash and can't do any of the coding or remote desktop control I could need while traveling. In the end, I was quite happy with my little $300 netbook but still may looking into something just a little more powerful for the trip.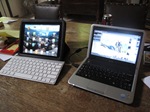 Before leaving, Ann and I got away from the group one more time for an evening drive down into Monaco so see how the other 1% lived. Immediately after the Monaco exit from the autoroute, the road cut toward the Mediterranean and descended while clinging to the cliffs above the water. We found our way to the marina and wandered around gawking at the yachts and sports cars.
There was a fair set up in a plaza above the marina with some "interesting" activities for kids. Our favorite was the one where they put your kid in a giant plastic bag and then just as they start to asphyxiate, stick a leaf blower in to inflate it, ziploc it shut and kick your hamster er… I mean, beloved child… into a jumpy castle filled with water. Don't think this would, uh, float, in the US. Check out the video below…
K. That's enough of that. Not much adventure in those 10 days but wanted to document it just to remember the time. Those 8 oz Kronenbourg's go down easy…