Spent the weekend up in Tahoe doing a little wedding planning but also wanted to take the truck out to get the tires dirty. I've been exploring some of the fire roads around Truckee on the motorcycle but wanted to get a better feel of what the Xterra could do. After a closed gate 3.5 miles in on the M6 road, Mt. Watson was no longer a possibility so we headed across I-80 to the Prosser Dam OHV.
It was a dreary day with a intermittent spatter of rain drops on the windshield, but the views up to the last snow of the season were clear.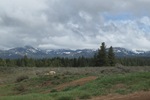 We followed signs to the Prosser Pits area where we'd played around riding 2up on the bike and remembered a nice little descent with a small water crossing. We walked down to check it out. Let me be clear; this little section would be NOTHING for regular four wheelers but we thought it looked exciting. (I also have another thing to say; I had to look up this site to confirm the correct use of a semicolon. Nailed it!)
Ann had been behind the wheel so I asked her if she wanted to give it a try. She was game. (Could have used another semicolon there but seemed pretentious.)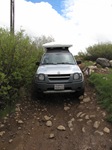 Here she goes… She's hard core!
But then she ruined it by asking if this picture made her butt look big…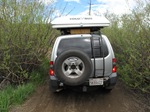 Okay, on to the really good part. We proceeded around Prosser Dam, taking side roads whenever they looked interesting, and found ourselves close to the water. On the opposite bank (or rather near the opposite bank), a mid 80's two door American coupe with suspension so low his front bumper would kill a snake was stuck halfway up his 20 inch rims in the water.
Now, as you know, we're in shakedown mode so our first instinct is that this is a set up looking to ensnare a good Samaritan. We slow down to evaluate. There's a guy in the driver's seat and the other guy is waving us over. The bank above them indeed shows some wide skid marks indicative of some sweet pre-swim donuts.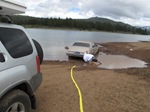 We take the next left and head out a spit of land towards them. Ann stops the truck a hundred yards away from them and I walk the rest of the way to gauge the situation.  The guy says they've called all their friends to come pull them out but no one's home. Sounds fishy to me but the fact that he's on his hands and knees in the muck trying to find a solid surface for the jack makes me think it's legit. Ann turns around and backs in, ready for the pull or the high speed departure (fine, call us paranoid). 
I get Debbie G (our recovery box – search the site if you're curious) down, pull out my brand new Smittybilt Recovery Strap and shackles, but wait 'til the last minute to inextricably connect ourselves to the liquefied low-rider. Fortunately, I'd been watching a lot of snatch videos (wait, that doesn't sound right, does it?) showing  recoveries using dynamic recovery straps like ours to "snatch" stuck vehicles. As they'd instructed, I got everyone clear of every possible direction a broken shackle, strap, or bumper could fly and pulled forward until the strap was tight. Making a mental note of this spot, I backed up to give it some slack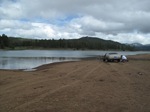 and then punched it. Nothing. That thing was STUCK. Some more slack, another snatch and it started to move. I gave it some more gas, felt the tires start to lose a little traction and then catch as the 20 inch rims followed me up onto the bank.
Another unexpected shakedown experience but a good one to have!