This morning we woke up leisurely and finally well-rested, despite the fact that I stayed up late trying to figure out how to use my VPN connection to trick ABC.com into letting us watch "Lost" despite being outside of the US (this is on the to-do list for the next trip).
We'd been told by a few people that the border crossing back into the US was less crowded at Tecate so we kept an eye out for Mex 3 in Ensenada. Unfortunately, the first signs for Mex 3 are the leg heading south and east towards San Felipe. After realizing the mistake and with the technological hubris of the GPS, we cut across the backstreets of Ensenada, feeling our way back towards the coast. In the process, we drove through some nice little neighborhoods and remembered that the drunks had said they lived in Ensenada. Aha, makes sense, they probably drowned any creepy crawlies in the food they ate at Los Vientos with margaritas. Oh well, next time. Can't be too safe.
I like this sign. It says "Uncle Sam's Tire Shop" but then has a picture of Yosemite Sam.
Oh, and they are VERY excited about Air Supply coming to town. We must have seen 20 signs like this painted on walls. Well, as it says, it is "an event of international size."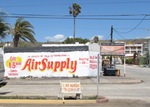 North of Ensenada, we found the correct turn for Mex 3 and spent the next hour and half trying to figure out why we didn't take this route on the way down. The "Ruta de Vino" winds through tons of wineries, olive orchards, and scenic boulder-strewn hills on the way to the border.
Once in Tecate, we had to look carefully to find the signs to the crossing but found only three or four cars in line ahead of us. We waited for our green light, approached the booth, and rolled down the window. The border officer didn't look up but just held out his hand. Uh, we speak the language, dick, do you need our licenses, passports (not required to enter from Mexico except when arriving by air), car registration, what? We took a guess and handed him our passports. He asked a few questions about my profession (I never understand why that's the least bit relevant) and slurred something about having any fruits, vegetables or alcohol. Despite the fact that we had a fridge full of stuff, the guy was a turkey so I told him we had four cans of Tecate. Without a word or a glance up, he handed us back our passports. So… are we done here? A slight wave of the hand. Jeez, we pulled back into our home country nostalgic for the puestos de control overstocked with teenagers with machine guns. At least they were friendly. 
An hour or so north of the border, we started to look for a spot to stay the night. I wanted to get one more night of camping in to shed the last bad experiences we'd had with the wind. Ann was game but clearly had a a preference for another night in a big comfy bed. Looking at the GPS, she saw a town called "Cardiff by the Sea" that must have sounded just posh enough not to have a campground. Well, turns out it did have one, just one that was $50 for a spot by the highway (>$75 for ocean front) and had been fully booked since Mar 1. We asked around in the Patagonia store and got a recommendation for a hotel and a beachfront restaurant. Unfortunately (or not), the schmancy Cardiff By the Sea Lodge was full with a wedding party so after deciding not to crash it, we booked at the Holiday Inn Express by the freeway. Turns out, despite the location (which is still only like 10 mins from the beach), the Holiday Inn Express is AWESOME. Nice big rooms, comfy beds, flat screen TV's, free wireless and a free hot breakfast in the morning. I think the wedding party really missed out…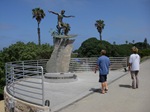 Funny note about C by the Sea. As we were walking around, we saw this statue of a surfer that was really awkward and scrawny and well… a little effeminate. We heard some people walking behind say pretty much the same thing. Turns out, we're not the only ones who think it. Check out Google Images for the various ways it's been defaced over the years.