After pressing the snooze button on the amazing sunrise emerging through the tent window, our first "official" lazy morning meant pancakes and ham for breakfast.
We lounged around the palapa for a while, me updating the blog (offline) and Ann reading her book on Kindle for iPhone. We had a nice day with plenty of sun and a nice breeze coming off the water. Sounds like a good time to try out my birthday present for myself. Hey, didn't that thing come with an instructional DVD? Yeah, it did, but my computer battery is kinda dying and besides, I wanna play with it now!
It's a 3 meter kiteboard training kite, similar to the one our guide brought with him in New Zealand. It flies pretty nice and well behaved up at the top of the half-circular "wind window" which spreads out like a cone in front of you when the wind's at your back, but use the waterski handle-like control to fly it inside that window and you better hang on.
The view from the kite (gotta figure out a better mounting system) before the battery on the ContourHD went dead.
The night we got into LA Bay, the inhabitants of the 8 or 10 palapas on the beach assembled around a campfire for an impromptu happy hour. Donte and Amy were driving a 2003 Xterra and had come down the washboarded road from San Felipe through Puertocitos, fishing from their sit on top kayak along the way. Royce and Sue have been on the road for eight years in their 35 foot RV and have become quite involved with causes (particularly women's health, education and safety it seemed) in local villages. Add in a couple more miscellaneous drunks and dropouts and we had ourselves a little community.
So upon realizing that our water stores were not going to cut it for our extended stay, we asked around the camp if anyone needed anything. The drunks took us up on the offer and gave us 20 pesos for what we knew was gonna be a 40 peso bag of ice and Donte and Amy asked for one as well. At that point, we knew we'd need to scrape up a way to pay anyway and drove the 2 minutes into town.
Fortunately, we found one store that could accept credit cards. I asked in my best Spanish, "Hay una minima cuando unsando la tarjeta de credito para pagar?" No, there wasn't a minimum, but they'd add 3% on top of the 3% Visa was gonna add. Lesson learned, don't count on an ATM in Mexico. We stocked up on the orders from the camp and water and asked a couple guys sitting at a table outside if they knew of anywhere we could buy some fresh fish. Never ask a question in Spanish if you don't want the answer in Spanish. We heard several "adelantes" and gathered from the gestures that we should head past the market we'd been to the day before.
Sure enough, across from the market, there was a boarded up kiosk with the words "Se Vende Fillete de Pescado" spray painted on the front. We drove up the alley beside it which opened up onto 4 or 5 houses with fishing gear strewn everywhere and no one in sight. After turning around and starting out, we noticed three guys in their 20's sitting on a porch drinking Tecate's (so I knew I could relate to them).
I yelled in Spanish "Sabe donde podemos comprar pescado fresco?" 
One said "Aqui. Que quieres?"
I said, "Que tiene?"
Of course, the only thing worse than my Spanish vocabulary is my "fish of the Sea of Cortez" vocabulary. He named a couple fish off, none of which rung any bells for me and begrudgingly got out of his lawn chair to walk me to the "freezer" (by which I mean a box truck filled with "some" ice and surrounded by a hailstorm of flies enjoying the most putrid smell I'd ever encountered). Note: Ann heard a somewhat sterilized version of this description upon my return to the car. At this point I noticed his eyes were about as bloodshot as any I'd seen. He'd either been enjoying what I later realized was 4/20/2010 or he'd been swimming too long at a friend's pool. He climbed over a couple mounds of what looked like tiny sharks (indeed "Tiburon" was one of the fish names I had recognized) and held up a 15" flat fish he called something like Lenguia (?). When I asked him what else he had he held up something that looked a lot more like a fish you'd see in a market and called it Cabria.
"Si, dos de esto. Cuanto cuesta?" I said.
"Dos? De esto?" he responded.
"Si, dos. Cuanto cuesta? I replied.
At this he just shook his head and waved as he handed me the slimy fish.
"Nada?" I asked.  
Another wave of the hand.
For this special occasion I pulled out my very best future imperfect and offered a "Que tengas un buen dia."
To which he responded, "Y tu."
A nice interaction which I tried not to ruin by betraying the fact that I did not know what to do with the two slippery Cabria in my right hand as I walked back to the car. Ann sensed my need to "pull this off" and quickly offered a garbage bag from one of the drawers in the back of the truck. A quick wipe of the hands with a paper towel, though not so thoroughly as to show weakness, and we were on the way back to the camp.
Pulling in, we dropped off the ice for the drunks and requested a quick fish filleting lesson which Donte was happy to offer.
In the afternoons, Donte would swing by camp either taunting the day's catch in a Ziploc bag or showing us a picture of him staring down one of his conquests. He was fond of further rubbing-in his elevated position on the food chain by way of a little shuffling dance accompanied by the chant "You're gonna be in MY BELLY!" An endearing cultural ritual that will likely be passed down through generations of little Donte's.
Of course, the ones who made out best were the pelicans who swarmed Ann as soon as she produced the remaining fish carcasses down on the beach.
"You're gonna be in MY BELLY!"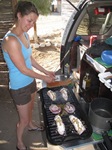 The night ended with the traditional Daggett Beach informal cocktail party though everyone disbanded pretty quickly as the wind abruptly shifted and started howling down the mountains towards us from the Pacific. With the truck "a-rockin'" in the wind, we climbed up into the sail known as our roof tent and settled in for a bumpy passage.