Not looking forward to another long day of driving, we set our sights on a cutoff from Mex 1 that leads down to Bahia Los Angeles on the Sea of Cortez. But before we even got in the car, we took some time to explore the boulder fields and cactuses (catci?) of Catavina.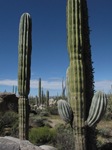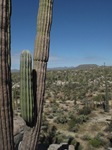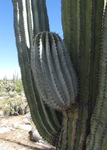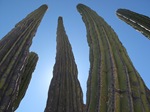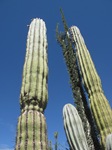 We followed some tracks off the main road towards a larger rock formation. The spot reminded me a lot of where we'd camped ten years ago. I'll have to check on that. We scrambled up the rocks for a nice view from the top.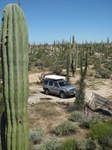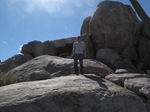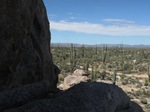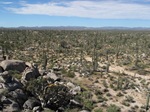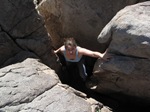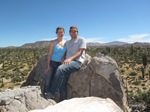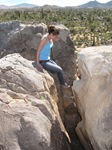 One of the more interesting aspects of the landscape was this misplaced shipwreck.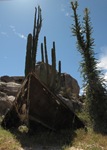 From Catavina, it was more long and lonely road east until we reached the LA Bay junction. Apparently, this road is part of a project to encourage large yacht owners to truck their vessels between the Pacific and the Sea of Cortez.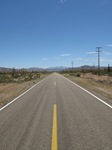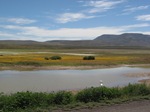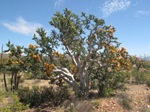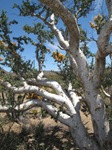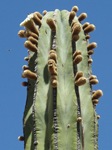 First glimpses of the Sea of Cortez.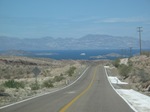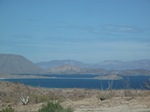 And we settled in at Daggett Beach Camping ($10) on the north end of town. The views from our palapa, sun and mild, cooling breeze quickly convinced us to plan to stay here for at least a couple days. It was around this point we realized that, with no ATM in town, we'd have to make our last 200 pesos (<$20) last. We found Pemex (the state run gas station) in town that would give us a measly 11 peso exchange rate if we paid for a fill up in dollars but at least we got some pesos back in change. After a visit to the market in town, we penny-pinched ourselves down to about 40 pesos, enough we were hoping to buy some fresh fish off a local fisherman.