Oh my God, oh my God, it's the border. Are all our papers in order? Is it going to be a problem that we still haven't gotten the title for the Xterra from the DMV? Do we need to declare all our camping gear? How many forks did we bring?! EVERYONE STAY CALM! WE'RE ALMOST THERE… wait, what? Did we go through it. Was it that overpass we just went under? I think it was. Yep, it was. So we're in Mexico now. Alright then.

After a quick stop just past the border to get some Mexican car insurance (we went with full coverage of the vehicle and liability for 7 days for about $70), we found the toll road (cuota) and tried to get out of Tijuana as quickly as possible. The first few miles wound steeply up and down through rugged canyons flanked with an impressive fence that clung like the Great Wall of China to every undulation.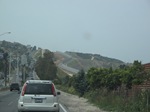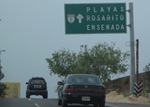 The coast below the border is blanketed with large oceanfront building projects that are either six months or 16 years into development. It's unclear whether they've been completely abandoned or are just awaiting permits for the bidets in the beach front cabanas.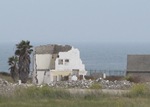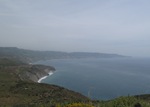 Once South of Rosarita, the toll road hugged high cliffs with views much like those we'd seen on Highway 1 in California. It seemed we'd escaped the border clutter and chaos until we approached Ensenada. At the final toll ($2.25 to get on, $2.25 in Rosarita, $2.45 in Ensenada – all payable in dollars or pesos, just not some of each), traffic came to an almost complete stop. We'd seen cyclists in some kind of leisurely race (the frequent Lucha Libre Mexican wrestler masks were a clue to the level of competition) climbing a road adjacent to the cuota earlier but here, they were merging onto the highway into a closed lane. While fun to watch the enthusiastic riders pass by, receiving high fives from the machine gun toting Polica, it took us almost two hours to drive the 30 kilometers or so from Rosarita to Ensenada.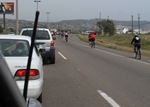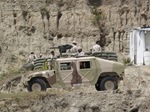 As we'll often do when we need an hour to "just go away," we queued up a podcast of "This American Life" and let Ira Glass' bemused narration of mundane events take us away. If you have any questions concerning the creation of risky Consolidated Debt Offerings through the sponsoring of the most risky traunches and then over-hedging with Credit Default Swaps that will pay off huge when the CDO's fail, just ask Ann.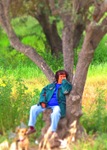 A little over-saturated tilt-shift of a local watching the day go by.

Once in Ensenada, we found a large supermarket where we stocked up on some produce, chicken, and misc supplies. No one seemed too interested in two gringos trying to decipher labels on canned goods. We filled the fridge in the truck to the brim and decided to set off for our original target from the night before, La Bufadora. After driving that toll road and navigating the streets of Ensenada, I sure am glad we didn't decide to press on into the dark last night. 

South of Ensenada (and the Walmart, the Home Depot, the Smart & Final, etc), the scenery did improve and we were soon skirting an estuary on the road out to a horn of land curling upwards from the south end of the half-moon shaped bay. We stopped for a torta and to ride a zebra. Well, the lady at the torta stand explained that "Tommy" (for that is his name) was in fact a burro who had been painstakingly dyed with Clairol to look like a zebra. Nonetheless, one US dollar seemed like the least we could justify paying for a ride.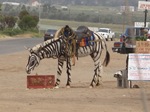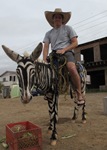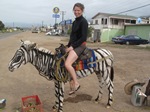 A few more stops for beer and tortillas and we wound around to La Bufadora, a congested dead end filled with opportunistic parking attendants waving us to either side. In these scenarios, our standard operating procedure is to ignore them, proceed as if we know what we're doing and remove ourselves from the situation for long enough that we can make that actually the case. We explored each of the various options in the Baja camping book including driving past all the parking and winding down into the empty lower parking lot and ultimately decided on Campo #5 for our night's accommodations. Fundamentally, just an enlarged dirt pullout behind some dude's house, the twelve year old boy and 8 year old girl who took our 70 pesos, assured us that they had the same book as us and this was the best place to camp.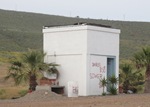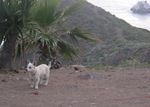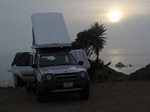 So after a massive grill-full of chicken, onions, and green peppers was cooked and a few fajitas-worth were devoured, I write this from high on a bluff watching the sun sets over a rocky Pacific coastline with a Dos Equis in the cup holder of my beach chair. It finally feels like we're in Baja.