This Saturday, Ann and I drove "the expedition vehicle" (as we've tongue-in-cheek started to call it – "Should we take the expedition vehicle to Walgreens?") to pick up the roof top tent I'd ordered a couple weeks ago. Though it was just a weekend errand, I think we both couldn't help but start to feel like we were already on the trip. We mounted the GPS, queued up some podcasts and discussed the various options for organizing our cockpit as we made the hour or so drive north to the warehouse in Sonoma.
We arrived to find a gentleman who seemed to expect us but was neither of the two guys from AutoHomeUS I've talked to on the phone. He jumped right into action tearing into a HUGE box that contained our new tent. Ann and I could see it in each other's eyes as the doubt set in. How big was this thing going to be?
After a few minutes of rationalization about how glad we'd be to have the extra width of the medium as opposed to the small, the cardboard and styrofoam packing came off and it started to look a little more reasonable. Still it was big enough to make using the forklift to get it on top of the car a good idea.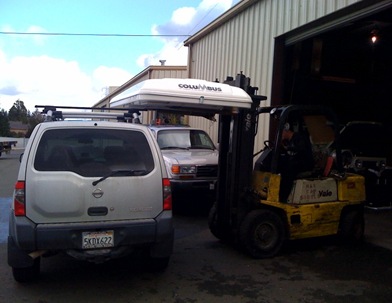 Soon after we got it up there, one of the guys I'd talked to before, Gary, pulled up. We talked a little about the trip and some other possible modifications we might make to the "expedition vehicle." In these situations, we tend to understate things by saying we "might" take the truck Tierra del Fuego.  I think it's because even that chunk generates comments of "whoa, that's a long way" from people new to the idea and a flurry of equipment and preparation suggestions from those who have considered it. In the end, we always end up somewhere between the two. It doesn't seem that daunting to us just to wake up every morning and do a little drive, check out some stuff, eat and hang out. It's a luxury really. On the other end of the spectrum, we know there's planning to do and we like looking into fun gear we could bring, but we've also read more than a few stories of people setting off on similar trips with just an idea and a Honda Civic.
With the shadow of the X wearing it's mortar board like it was graduation day, we loaded the GPS up with the coordinates of some property my brother recently bought and set off for Napa. We were secretly excited to see the directions describing a left "at the end of the pavement' so we could get the tires a little muddy. We did need to slip into 4WD for just the last little hill up to lot #14 for a little photo shoot of the new rig.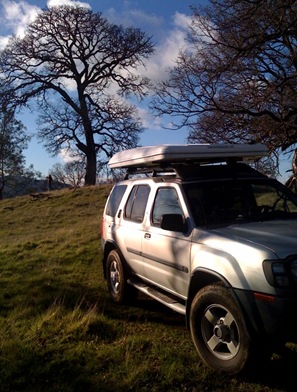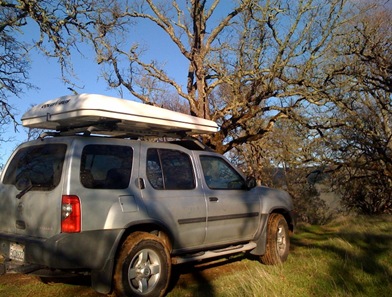 We rolled down the hill in the rain just before sunset but in time to catch an incredible double rainbow over the Calistoga Valley. More than a few times on the drive, we caught ourselves thinking "this is beautiful, but if we were in Patagonia or Africa or Scotland, we'd be completely blown away." Still, after a quick meal in Calistoga, we were completely understanding of why people come from all over the world to visit our backyard.