On the Pan American Highway, we talked a lot about stripping our lives down to the point that we could be on the road for up to a year, the cathartic act of "quitting things" I wrote about in the Playa Aserradores post. We had to take a close look at work and community commitments, social and family relationships and even all of our "stuff" to decide what was valuable to us. Now, I'm not going to tell you one of those stories about selling everything and leaving a note on the kitchen table that says "Gone South." The fact is, we loved where we lived, our friends and family and frankly, a lot of our stuff, but we did give notice on a lot of the activities that had been taking up a lot of our time and energy and felt like we'd been pretty effective at consolidating the contents of our house in San Francisco largely into one locked room. Still, when the movers showed up at 8:00 am on a foggy summer day to move it all from Bernal Heights up to Petaluma, it felt like we had way too much stuff.
Despite having four more months on a furnished lease, our tenants had graciously agreed to let us take everything except one couch, the garbage cans and the toaster oven. It seems their 14 month old son Aman, now just starting to explore the world on two stocky but unsure legs, had quickly determined the limitations of our wobbly shelving units and sharp-cornered coffee table, and they would just as soon have the living room empty, a pillow-walled insane asylum where Aman could, well… go crazy. Part hired brawn and part therapists, the movers assured us that most people were much less prepared than we were for the move. Still, we'd heard stories of people unpacking boxes at their new home to find garbage cans still full from where they'd been found under the kitchen sink but well-cushioned within crumpled up newspaper, and we imagined we might find some similar loose ends.
Somehow, our possessions had expanded to fill the moving truck that followed us from the double-parked, narrow curving streets of Bernal Heights to the long, straight country lane and the spacious driveway shaded by mature trees in Petaluma. As box after box came off the truck, the movers would ask which room we wanted them in. We'd just stand there, a bit dazed, and eventually say, "Just leave it here in the garage." After almost 8 months without any of it, it was hard to figure out exactly how it all fit back into our lives. Outside the house - planting the garden, clearing the pastures, pruning trees and taking care of the animals – it felt like we always knew the next step, but inside, it was hard to lift back the flaps of any of the identical mystery boxes to discover what exactly was in there that we'd been so sure we needed before we left.
So while we were excited to spread out into this house – more of a real "house" than either of us had lived in since we left for college – there was plenty outside to keep us busy and entertained… 
Our niece Callie had no problem channeling a farm girl.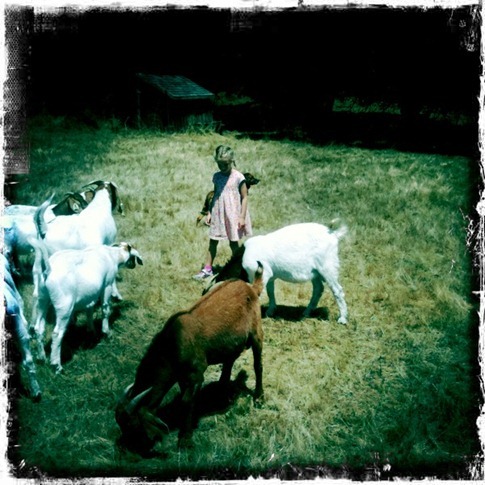 Despite now having the whole back pasture to roam, the goats would still come down into the lower pasture for an afternoon siesta. One of their favorite things was following along the fence line as I pulled weeds from the sun garden and tossed them over the fence.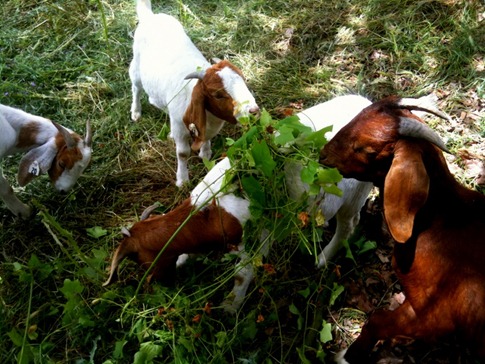 But they'll still work their way around the pasture to make sure they hadn't overlooked any viable grazing options. And for a goat, that doesn't limit things too much.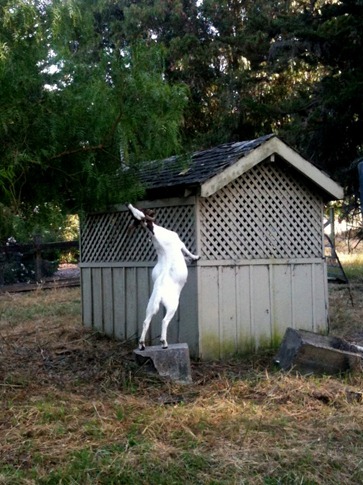 We walked out one day and said, "Is that a goat in that tree?"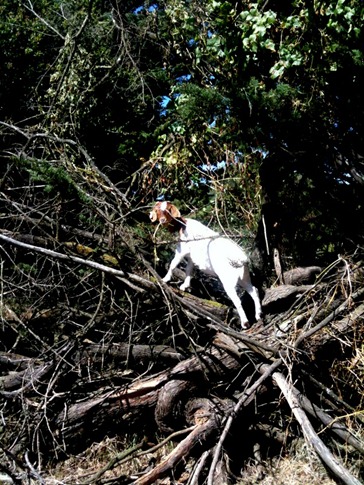 Yup, he'd climbed up into this twisted fallen tree in search of a few more leaves.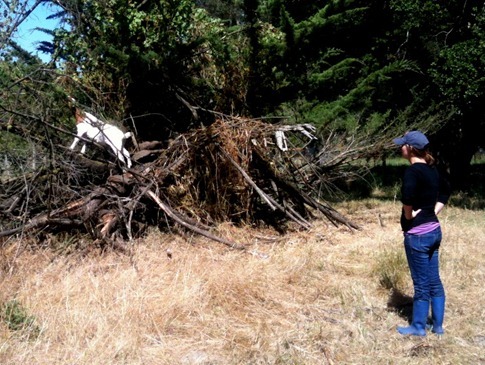 And of course, the mere promise of a flake of alfalfa, like a whole bowl of peanuts sitting right there in front of you after hours of cracking dusty shells just to get two at a time, is enough to trigger a mini stampede of hooves following Ann back to the small feed shed near the pasture gate.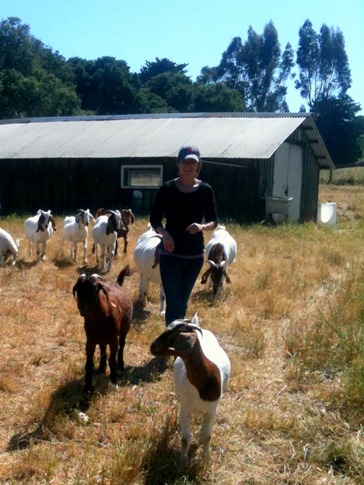 A lot of my work lately has been pruning trees and clearing away old wood. I think the everything just got a little out of the control of the previous owner, and peeling back the layers of overgrowth and low hanging branches has been rewarding. Hiding in the depths, I've found a plums, figs, blackberries and a magnolia tree, though most of the time it's a more subtle result that just reduces clutter or opens up a view.
Before…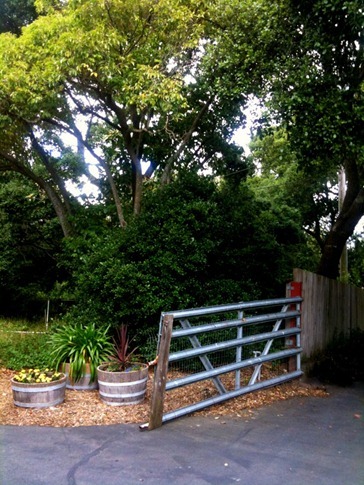 After…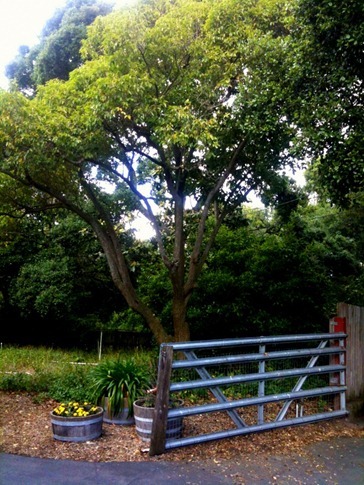 I never imagined that "farming" would involve killing so many trees. Well, at least producing so much wood. I'm working on a 20 foot square, 10 foot high brush pile at this point and will need to rent a chipper pretty soon to convert it into something we can use. Once again these wagons have been key to hauling things around the property, often with the branches of 10-15 foot limbs dragging off the back like a defeated peacock.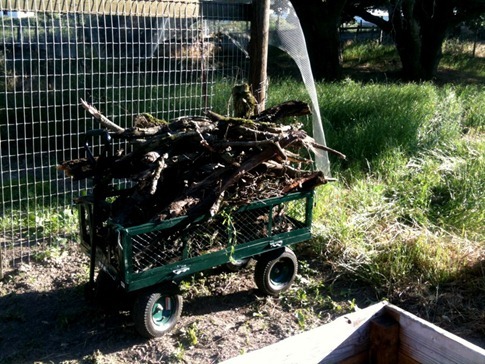 But as I've discussed, one of the primary reasons for owning property is to justify buying tools, and as much as I tried to convince myself – others were surprisingly not at all hard to convince – that I needed a tractor, I finally decided that a four wheel drive ATV with a pull-behind mower was the best solution for cutting the fields we couldn't let the goats into. I'd been scouring the Bay Area CraigsList for a couple weeks before realizing that Sacramento and the foothills might be a better option for finding an ATV. Then, while up in Grass Valley working at the Father's Day Bluegrass Festival, I found a listing for exactly what I wanted not 5 minutes away. Since I'd hauled everything up for the stage that I run, I had my utility trailer and went down to make the deal during an afternoon break.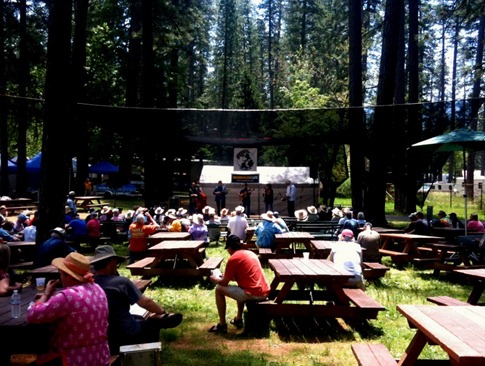 Having removed the storage built-in from the back of the Xterra and with our "expedition" equipment now buried under a pile of boxes, my packing system for the festival was in sharp contrast from the Trip.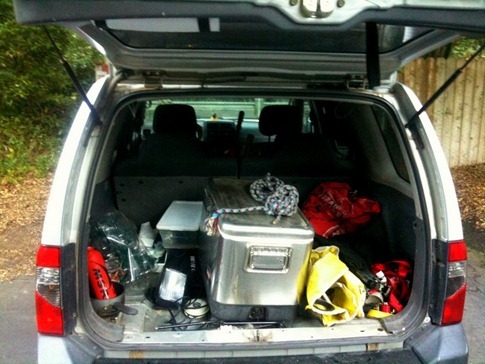 As evidenced by my need to eat cereal from a pot the next morning…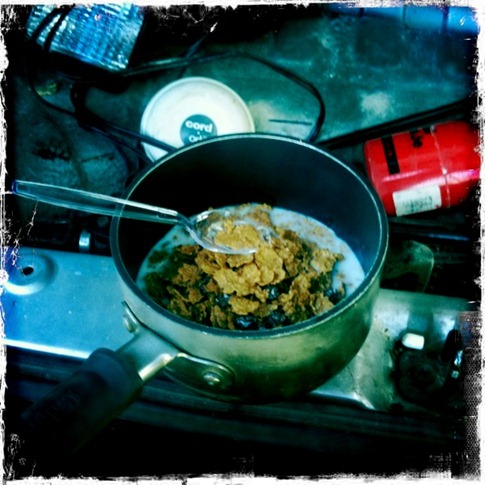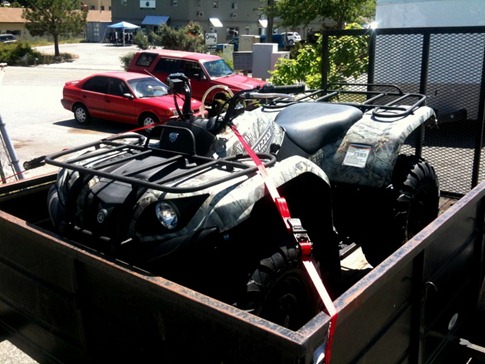 Yep, camo. I kept parking it in front of bushes near our camp and not being able to find it. People claimed I looked like I was just floating through the forest. When I got home, I took this picture of Ann and the new toy.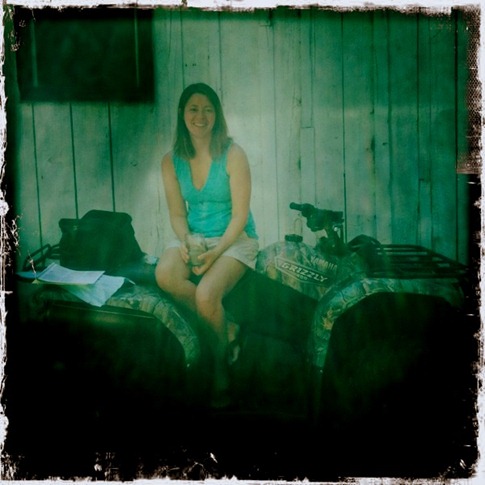 For some reason, the overwhelming comments on Facebook from our (largely) Liberal friends were about moving to the country, becoming Conservative, and joining the NRA. While most were jokes, it's interesting how us doing something that's probably the most "hippie" thing we've ever done – growing our own food, composting, reducing our waste and building using reclaimed wood, and enjoying a connectedness with our natural surroundings – can look a lot like what "Conservative" people have been doing in rural areas for more than a century. Besides, once they see Ann's technique in Big Buck Hunter, I doubt the NRA would even take us.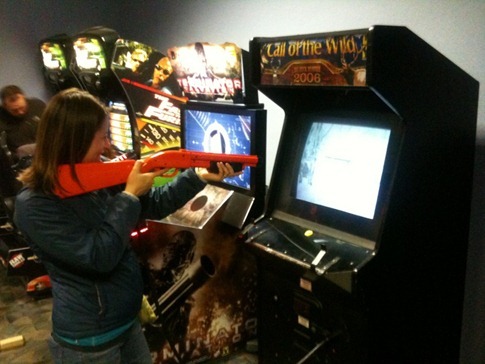 But despite the increasing frequency of George W. Bush stickers after you cross the Sonoma County line from Marin, politics doesn't really seem to come up too much, and we've felt like there's a nice mix of people, more concerned with what they have in common – fences needing patching, fields needing cutting, and an appreciation for the pace of life out here. Yeah, "out here," an hour from San Francisco and 15 minutes from Santa Rosa, the fifth largest city in the Bay Area. And we can't too far out if Joe and 10 month old Henry came up from Berkeley to meet Petunia.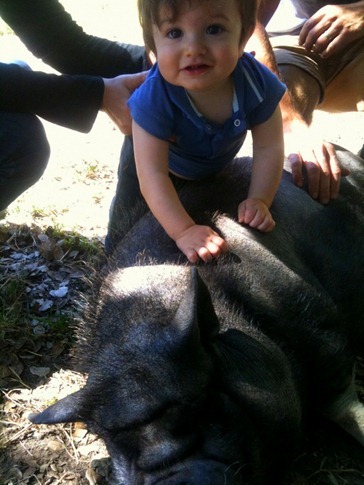 For the Fourth of July, we planned to be up in Lake Tahoe with my family for a whole week. This meant making sure all the plants and animals would be taken care of while we were gone. From the beginning, our idea has been to only adopt those "industries" that can be left for a few days while we get out of town every once in a while. By this time, the garden, including the new box of strawberries I planted (I figure that while Ann is trying to convince friends that the kale she grew is better for them than it tastes, I'll appear with a heaping basket of sweet red deliciousness and the people will cheer "STRAWBERRIES!"), is being watered two times a day through a spaghetti of drippers and sprayers hooked up to a $29 timer that screws onto the hose bib.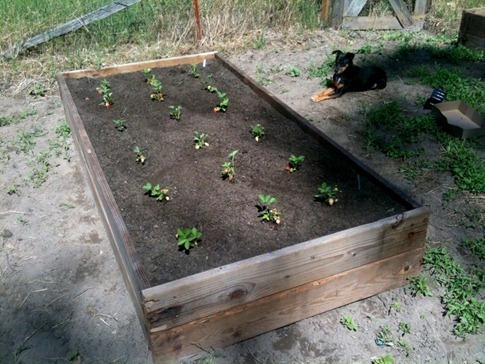 As for the goats, we'd noticed an increasing sense of urgency in the bleatings of "Billy," the patriarch and spokes-goat for the herd, and had called the woman who owns them to come pick them up before we left; The next day we got a call from the neighbor above us saying that one of them was walking around in their driveway, having found a hole in the fence in search of "greener pastures." Their work was done. It was time for them to go home. Er, as we found out when they got picked up, to "go to market."
The only thing left to take care of was feeding Petunia. A quick search of CraigsList yielded a battery operated catfood feeder, but it would have to be secured in such a way that Petunia couldn't knock it over and that the sheep wouldn't bully her out of her food. The solution came in the form of an old doghouse I found along one of the pasture fences.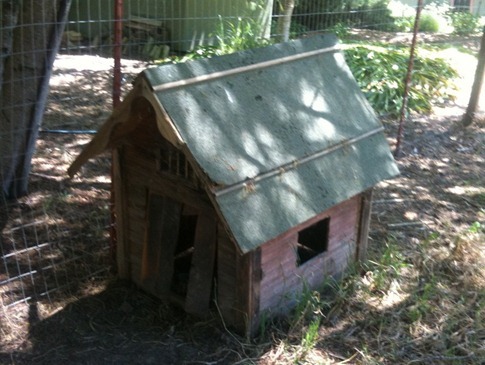 Of course on their last day, the goats all of sudden found it terribly interesting.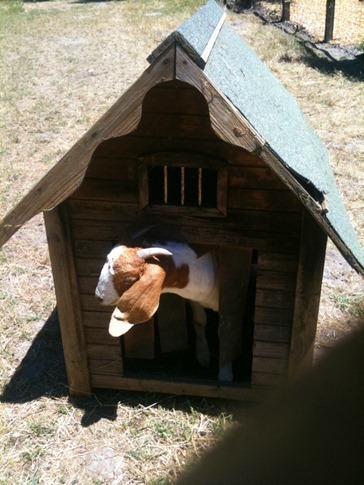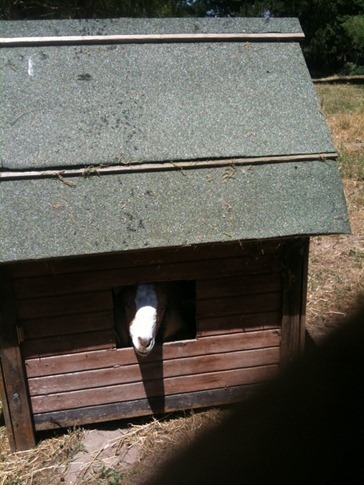 And useful. Here the line is forming for prime access to a new vantage on a previously grazed-out tree.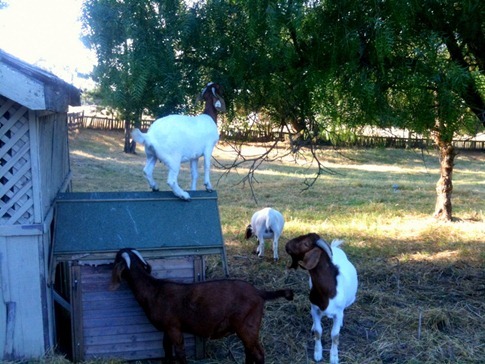 With the feeder mounted on a shelf inside the pump house, food drops into a section of metal gutter instead of the removable plastic bowl that came with the feeder and slides down into the back of the doghouse. When Petunia hears the sound of pig chow on galvanized steel, she comes running!